Unparalleled Expertise
Micelli has expertise working with the most discerning chocolate manufacturers, both large multinational brands and the top award winning specialty Artisans.  Micelli has been relied upon as a valued partner in the development of polycarbonate injection molds for 7 decades.
With tens of thousands of artisanal molds and millions of industrial molds under our belt, we've seen and met every challenge you can possibly throw at us. The only thing unique will be your beautiful new design completed in a mold made to last. Like you, we're passionate about chocolate making – let our experience guide you in making the next great chocolate brand.
Injection molded polycarbonate chocolate molds
Micelli specializes in the design and production of INJECTION MOLDED polycarbonate chocolate molds. If you're manufacturing high quality chocolate with a precise design and you want molds that can last beyond the life cycle of your product, polycarbonate injection molds are the industry standard.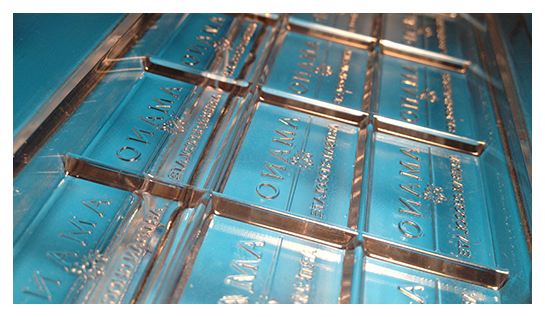 The combination of rigid flat surfaces, ultrafine engravings, high quality surface finish, and extreme durability make injection molds the perfect fit for your mold requirements. We are the only manufacturer in the USA who uses the injection molding process to create the highest quality most sought after Artisan molds.
Clean Crisp Features
From your first batch to the last, your details and finish can remain precise and exact ­ visually exemplifying the quality product to your consumer. With our polycarbonate injection molds achieving the highest quality and durability possible for artisanal chocolate manufacturers, you can be confident that your chocolate will have the same clean edges and detail years and years from now. Choosing our highest quality injection molding process means a flat rigid mold, fine details, perfectly straight lines, curves that intersect at tight tangents, your molds by Micelli will deliver flawless execution day after day after month after year.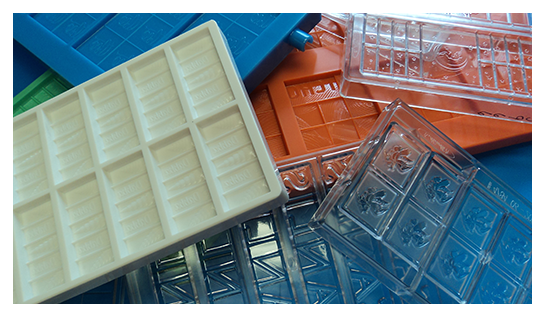 Quality Molds, Built to Last
Built to last a lifetime – unlike starter molds, our custom polycarbonate injection molds can last for decades of Artisanal use and are durable enough to withstand **dishwashers, and constant heating and cooling. We hope the only reason you come back to Micelli is because you're increasing your production size or rolling out a new size or design.
The one time cost of the highest quality polycarbonate injection molds is worth the years of confidence and avoiding the pitfalls of inferior molds which include warping and distortion, cracking, lack of detail and finish. Know that you need to make your molds once and never worry about them again, like our thousands of prior satisfied customers.
Superior Finish
The quality of the mold has a huge impact on the smoothness of the chocolate's surface. The injection molding process involves injecting liquid polycarbonate under extreme pressure into a steel die forming the highest quality surface. Polycarbonate injection molds are also able to far better handle heating and cooling cycles without damage, also making them **dishwasher-safe. By choosing cheaper, inferior molds, manufactured by thermoforming/ vacuum forming or use of PET plastics will result in eventual warpage or damage the finish.
**Keep surface temperature below 150F and use proper detergents